About Us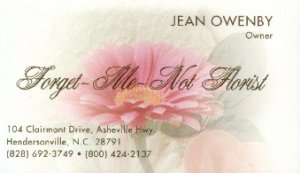 Forget-Me-Not Florist is your premier full service florist serving Hendersonville, NC for over 12 years. We offer the freshest flowers and most fashionable designs to ensure that you will be pleased with your floral purchase.
In addition to the freshest flowers and plants, Forget-Me-Not Florist has a large selection of custom made designs, gift baskets, silks, plush, and home decorating items. We have unique designs to suit every need.
We have the most reliable daily delivery to Margaret Pardee and Park Ridge hospitals, and all funeral homes in our delivery areas of Flat Rock, Dana, Fletcher, Horse Shoe, Etowah, East Flat Rock, Edneyville, Mountain Home, Laurel Park and all of Henderson County, North Carolina.
Our store hours are 8:30am to 5:00pm Monday through Friday, 9:00am to 1:00pm Saturday, closed on Sunday.